Regular Size #608 with White Glass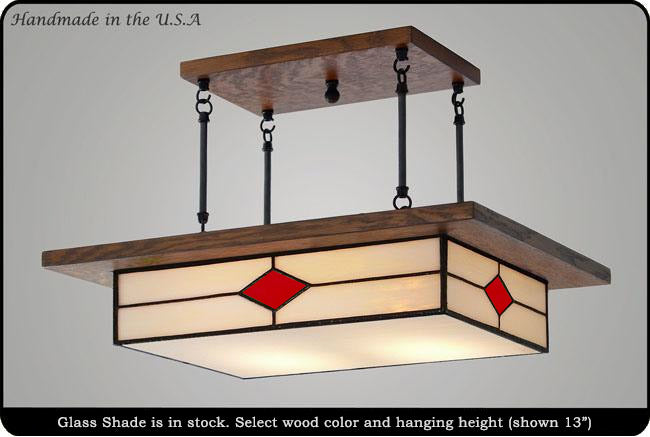 Price:
FREE SHIPPING
Due to HIGH Demand Please allow 5-6 weeks to ship.
You can select wood color and hanging height but the glass is in stock and only available "as is" on this fixture. The main glass color for the shade is white.  We only have 1 in stock.
Specifications:
Instructions: View
See the fixture in a home: Customer Photos
Frame Size: 21" x 17"

Ceiling Board Size: 12" x 8"

Weight: 21 pounds

Wattage & Bulbs: 4 Bulbs 75 watts maximum each. Works with: LED, fluorescent or incandescent bulbs.
Rating: UL Listed for Dry Locations
Main Glass Color: Whispering White
Accent Color: Mackintosh Red
Frame: Oak or Cherry - See colors. Custom colors are available
Note:
The room size applications above represents about 80% of the applications, customers will use a regular size in a large room and a grand size in an average dining room depending on the decor, ceiling height, and many other factors.
Calculating Hanging Height:
Over A Table For The Mission Chandelier in any size, we recommend 5' 11" to 6' 7" from the floor.
In An Open Space:
6' 6" to 7' 6"

from the floor.
Measuring Hanging Height:
Hanging height is determined by measuring from the ceiling to the bottom of the glass.
More Photos:
SHIPS IN 7 DAYS