Prairie Style Light Fixture #907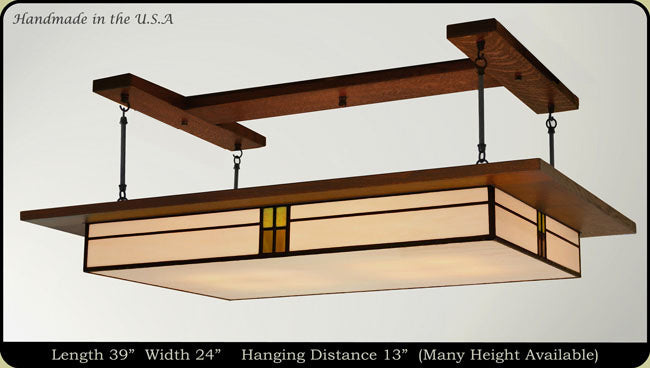 Price:
FREE SHIPPING
Due to HIGH Demand Please allow 6-8 weeks to ship.
Our Prairie Style Fixture is the perfect lighting option for the kitchen, dining, billiard and living room of your house. This beautiful lighting fixture adds to the charm of every room in a house, and infuses an aura of elegance into your home. The delicate detailing on the handcrafted, stained glass surface of the light fixture is available in a variety of different colors to match your interior design needs. This ceiling lamp is available in different hanging style designs for a beautiful effect in your home.
Specifications:
Instructions: View.
See the fixture in a home:

Customer Photos
Frame Size:

33

" x 22"
Ceiling Board Size:

28

" x 18".
Measurements:

See Diagram
Weight:

26-33 pounds depending on the size and style.
Wattage & Bulbs: 8 Bulbs 40 watts maximum each. Works with: LED, fluorescent or incandescent bulbs.
Rating: UL Listed for Dry Locations.
Hanging Height & Rods/Oval Loops: Adjustable to any height you need to fit your space with a minimum of 13" from the ceiling to the bottom of the glass box. The chandelier hangs from the ceiling by either a oval loops or steel rods with loops(shown above hanging 16").
Prairie Light Fixture Craftsmanship
Glass: Available in two colors: caramel cream or whispering white. The caramel cream, when illuminated, offers a mission amber glow. However, the whispering white is approximately 20% brighter.
Wood:
The wood in our Prairie Lighting Fixture is cut, sanded, fitted, and joined by hand. The wood is cut, sanded, fitted, and joined by hand. Our artisans use Oak wood stained with your choice of Dark Cherry, Mission Brown and Golden Oak. Custom colors are available for an additional cost. Clear oiled Cherry wood is also an option.

More Photos: