Prairie Pendant Chandelier #260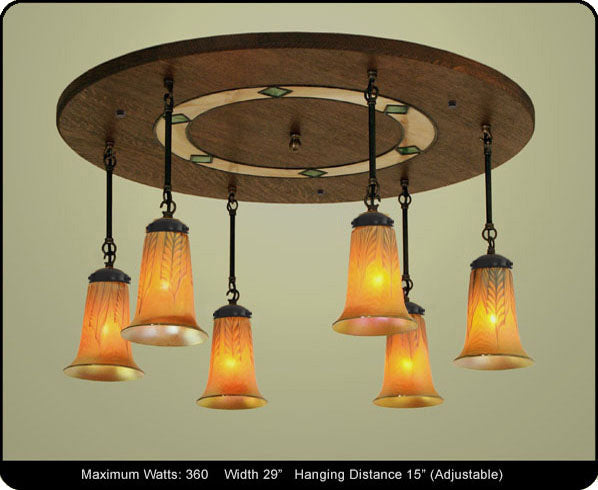 Price:
FREE SHIPPING
Due to HIGH Demand Please allow 6-8 weeks to ship.
A light uniquely handcrafted fixture is a smart investment that is both functional and beautiful, and this gorgeous Prairie Pendant Chandelier is truly a work of art. Destined to provide years of enjoyment and enhancement to your home décor, this elegant light fixture is part of the Mission Pendant Lights collection. As with all Mission products, this one-of-a-kind fixture is crafted of hand-blown glass and hand-cut and finished wood by skilled artisans to add beauty and distinction to your home.
Specifications:
Custom Sizes Available:
Mission Studio offers custom sizes  to fit your decorating needs. For a price quote, please call our toll free telephone number, 1-866-987-6549, with your preferred dimensions.
Available Hanging Heights: 12", 15", 17", 20", 23", 26", 29", 32" longer custom lengths are $8.00 per light with a maximum length of 60".
Wattage & Bulbs:
The Pendant Chandelier shown requires six light bulbs at 60 watts each.
Craftsmanship:
Glass:
The shades are individually hand blown by Lundberg Studios in Davenport California, and are available in many shapes and colors. Lundberg Studios is one of the premier glass blowers in the U.S.A and has been since 1970.
Wood:
The wood for the Pendant lighting is cut, sanded, fitted, and joined by hand. Our Artisans use Oak wood stained with your choice of Dark Cherry, Mission Brown and Golden Oak. Custom colors are available for an additional cost. Clear oiled Cherry wood is also an option.

Glass Inlay (optional):
All of our glass inlays are recessed into the wood to achieve a flush surface. The glass is then hand-soldered into the wood. The inlay glass colors can be customized to match your home decor.
More Photos:
PLEASE EMAIL OR CALL FOR AVAILABILITY