Classic Mission Light Fixture #600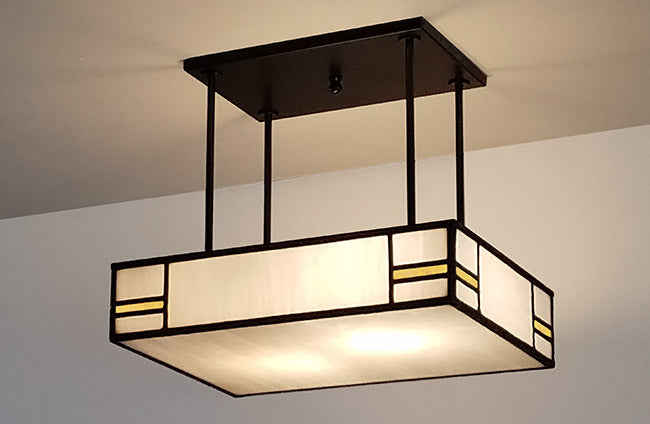 Price:
FREE SHIPPING
Due to HIGH Demand Please allow 5-6 weeks to ship.
Specifications:
Instructions: View
Frame Size: 16" x 12"

Hanging height shown: 19" from ceiling to the bottom of the glass
Ceiling Board Size: 12" x 8"

Weight: 14 pounds

Wattage & Bulbs: 2 Bulbs 75 watts maximum each. Works with: LED, fluorescent or incandescent bulbs.  4 bulbs is optional at no extra charge.
Rating: UL Listed for Dry Locations
Size Applications:
Rooms 11' x 11' or smaller. Average Dining Rooms, Kitchens and Bedrooms.
Note:
The room size applications above represents about 80% of the applications, customers will use a regular size in a large room and a grand size in an average dining room depending on the decor, ceiling height, and many other factors.
Calculating Hanging Height:
Over A Table For The Mission Chandelier in any size, we recommend 5' 11" to 6' 7" from the floor.
In An Open Space:
6' 6" to 7' 6"

from the floor.
Measuring Hanging Height:
Hanging height is determined by measuring from the ceiling to the bottom of the glass.