Craftsman #459 in White - Large Size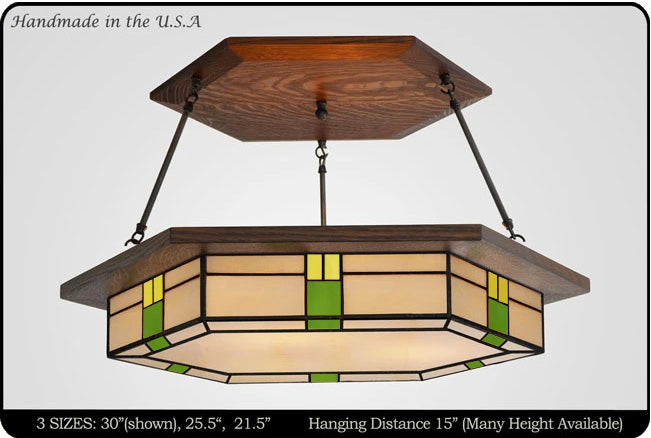 Price:
FREE SHIPPING
Due to HIGH Demand Please allow 5-6 weeks to ship.
Specifications:
Instructions: View
See the fixture in a home: Customer Photos
Frame Maximum 25" x 21.5"

Ceiling Board Maximum Width:  15"
Diagram of Sizes: Large
Weight: 28 pounds
Wattage & Bulbs: 3 Bulbs 100 watts maximum each. Works with: LED, fluorescent or incandescent bulbs.
Rating: UL Listed for Dry Locations
Main Glass Color: Whispering White
Accent Color: Vintage Green
Frame: Oak or Cherry - See colors. Custom colors are available
Size Applications:
Regular Size: Rooms 11' x 11' or smaller. Craftsman Style Kitchen Lighting, small dining rooms and bedroom
Large Size: Rooms 12' x 12' to 15' x 15' Average to large Kitchens, Dining Rooms and Family Rooms.
Grand Size: Rooms 15' x 15' and Up, Large Dining Rooms, Living Rooms and Family Rooms.
Note: The room size applications above represents about 80% of the applications, customers will use a regular size in a large room and a grand size in an average dining room depending on the decor, ceiling height, and many other factors.
Calculating Hanging Height:
Over A Table: For The Craftsman Style Chandelier in any size we recommend 5' 11" to 6' 7" from the floor. The factors to consider are, will I hit my head when I bend over the table, will this fixture block the view of the window, wall decorations or someone standing across the table.
In An Open Space:
6' 6" to 7' 6" from the floor, in some cases even higher depending on the application.
Measuring Hanging Height:
Hanging height is determined by measuring from the ceiling to the bottom of the glass. The easiest way to measure is to hold a yardstick or tape measure up to the ceiling and see how far you want the fixture to hang down.
More Photos:
SHIPS IN 12 DAYS