Mission Style Wall Sconce #110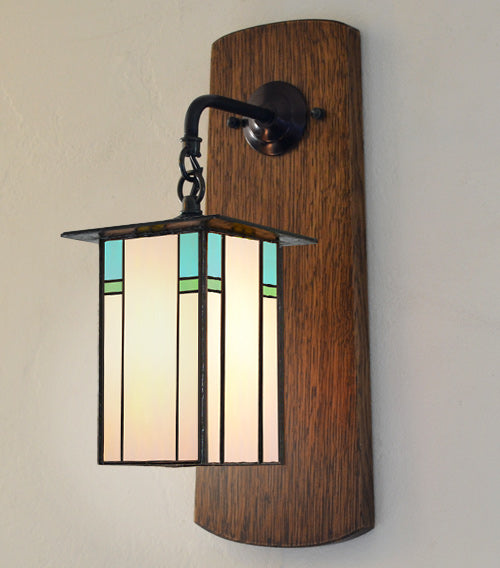 Price:
FREE SHIPPING
Due to HIGH Demand Please allow 5-6 weeks to ship.
Our Mission Wall Sconce will add beauty and charm to any home. This light features an elegant handcrafted glass lamp shade made from hand rolled glass. The Wall Sconce is easy to hang and includes all necessary hardware for installation. This light matches beautifully with our elegant Craftsman Lighting and Mission Lighting collections.
Specifications:
Wood: 15" x 5 1/2" (Optional metal plate, see below)
Shade: 6 5/8" x 4"
Wattage & Bulbs: Maximum Watts for our Arts & Crafts Wall Sconce is 60 watts.
Custom Sizes: Larger sizes are available please call or e-mail for a quote.
Optional Metal Wall Plate: The ceiling canopy on this Pendant Light fixture can be used in place of the wood, and the cost is $80 less - phone or custom email quotes only until we add the fixture to the website.
Additional Shade Options: You can select any shade option from our Mission Lantern and Pendant Lighting Collection, pricing will be similar but please contact us for more details.
Wall Sconce Craftsmanship:
Glass: Available in two colors: caramel cream or whispering white. The caramel cream, when illuminated, offers a mission amber glow. However, the whispering white is approximately 20% brighter.
Wood: The wood is cut, sanded, fitted, and joined by hand. Our artisans use only Oak wood stained with your choice of dark cherry, mission brown and golden oak. Custom colors are available for an additional cost.