The Elegant Pendant #198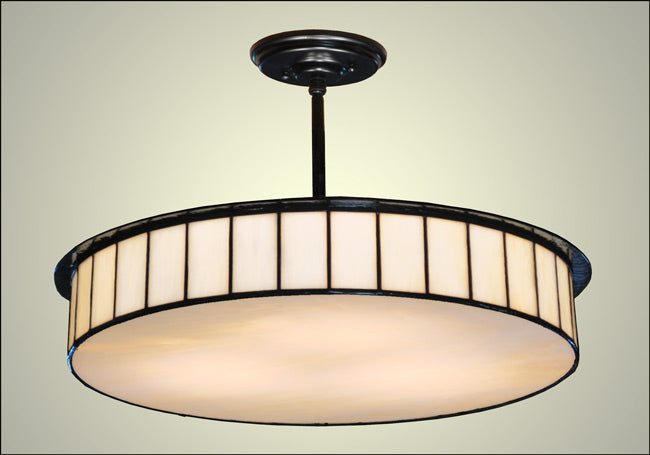 Price:
FREE SHIPPING
Due to HIGH Demand Please allow 5-6 weeks to ship.
Clean, simple and elegant this handcrafted stained glass light is made by hand in the USA. Select from many different hanging heights. This light fixture works well with vaulted and angled ceiling.
Specifications:
Height shown: 15"
Width: 21"
Bulbs and Watts: 3 light bulbs maximum watts 100 each
Rating: UL Listed for Dry Locations
Ceiling Canopy Size: Maximum width 5 1/2"
Weight: 18LB
Glass: Hand rolled stain glass
Metal Frame: Hand melted solder
Calculating Hanging Height:
Over A Table: For The Craftsman Style Chandelier in any size we recommend 5' 11" to 6' 7" from the floor. The factors to consider are, will I hit my head when I bend over the table, will this fixture block the view of the window, wall decorations or someone standing across the table.
In An Open Space: 6' 6" to 7' 6" from the floor, in some cases even higher depending on the application.
Measuring Hanging Height: Hanging height is determined by measuring from the ceiling to the bottom of the glass. The easiest way to measure is to hold a yardstick or tape measure up to the ceiling and see how far you want the fixture to hang down.