Arts & Crafts Lighting Fixture #308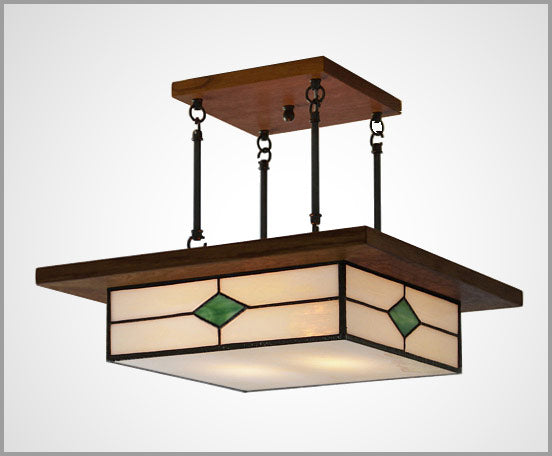 Price:
FREE SHIPPING
Due to HIGH Demand Please allow 5-6 weeks to ship.
How often do you find a hanging light fixture that's both square and stylish? You've found it in this Arts & Crafts Lighting Fixture. With handcrafted glass that's available in amber or soft white, this hanging fixture is enhanced by the rich square wood trim, which can be ordered stained in a choice of shades or with a natural finish. This lovely light fixture is ideal for any dining room, kitchen, or family room, with its stunning accent of colored glass diamond shapes, reminiscent of a Tiffany look.
Specifications:
Instructions: View
See the fixture in a home:

Customer Photos
Frame Size:

Regular 17" x 17" - Large 21" x 21"
Ceiling Board Size:

Regular 8" x 8" - Large 12" x 12"

Weight:

14-28 pounds depending on the size and style.
Wattage & Bulbs:

Regular size

2 Bulbs 75 watts maximum each,

Large and Grand size

4 Bulbs 75 watts maximum each
Rating: UL Listed for Dry Locations
Size Applications:
Regular Size: Rooms 10' x 10' or smaller. Small Dining Rooms, Kitchens, Bedrooms and Hallways
Large Size:

Rooms 10' x 10' to 14' x 14' Large Kitchen, Large Dining Room and Family Rooms.
Note: The room size applications above represents about 80% of the applications, many customers will use a regular size in a large room and a grand size in an average dining room depending on the interior design
Calculating Hanging Height:
Over A Table:


For the Arts and Crafts fixture in any size we recommend 5' 11" to 6' 7" from the floor

.

The factors to consider are, head clearance, and will how will the height effect my room design

,

will

the fixture block artwork or windows

.
In An Open Space:
6' 6" to 7' 6"

from the floor, in some cases even higher depending on the space.
Measuring Hanging Height:
To determined hanging height we measuring from the ceiling to the bottom of the glass. The way to calculate the hanging height you need is to hold a yardstick or tape measure up to the ceiling and see how far you want the light fixture to hang down.
Material:
Main Glass Color: Mission Studio offer two colors: Caramel Cream and Whispering White. The Caramel Cream, when illuminated, offers a warm amber glow. However, the Whispering White offers approximately 20% more light. The Whispering White glass has some small streaks of caramel within and is not pure white. If this is a light source you will use daily, the brighter Whispering White glass may be a better choice.
Wood Color and Options:
The wood is hand selected ,cut, sanded, and joined by hand. Our Craftsman use Oak wood finished with your choice of stain; Dark Cherry, Mission Brown, Golden Oak. Cherry Wood is also available with a natural clear finish.

Custom colors are available for an additional cost.