Arts & Crafts Light Fixture #301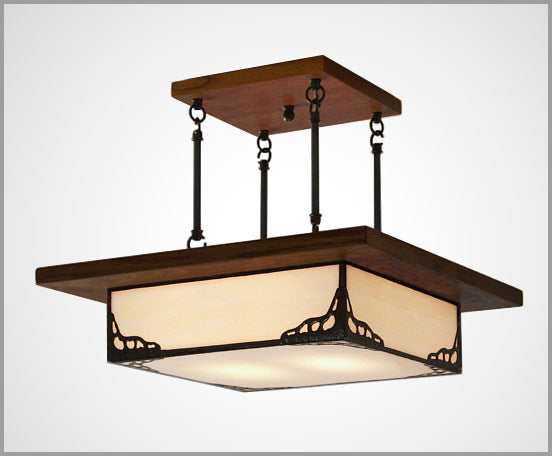 Price:
FREE SHIPPING
Due to HIGH Demand Please allow 5-6 weeks to ship.
This distinguished, handcrafted, pendant-style light is perfect for the discriminating person searching for a square light fixture with a simple, elegant look. Part of the handmade in the U.S.A Lighting collection, this comes in three versatile sizes to fit any dining room, kitchen, or family room. Available in amber or soft white, this hanging fixture is enhanced by the square oak or cherry wood trim, which can be ordered stained in a choice of shades or with a natural finish. To add an even more dramatic touch, the lacy metal pattern overlaid on the light's four corners emphasizes the antique look of the fixture
Specifications:
Instructions: View
See the fixture in a home:

Customer Photos
Frame Size:

Regular 17" x 17" - Large 21" x 21"
Ceiling Board Size:

Regular 8" x 8" - Large 12" x 12"

Diagram of Sizes:

Regular Size

-

Large Size
Weight:

14-28 pounds depending on the size and style.
Wattage & Bulbs:

Regular size

2 Bulbs 75 watts maximum each,

Large and Grand size

4 Bulbs 75 watts maximum each
Rating: UL Listed for Dry Locations
Size Applications:
Regular Size: Rooms 10' x 10' or smaller. Small Dining Rooms, Kitchens, Bedrooms and Hallways
Large Size:

Rooms 10' x 10' to 14' x 14' Large Kitchen, Large Dining Room and Family Rooms.
Grand Size:

Rooms 15' x 15' and Up, Over Large Dining Room Table, Large Islands and Family Rooms.

Note: The room size applications above represents about 80% of the applications, many customers will use a regular size in a large room and a grand size in an average dining room depending on the interior design
Calculating Hanging Height:
Over A Table:


For the Arts and Crafts fixture in any size we recommend 5' 11" to 6' 7" from the floor

.

The factors to consider are, head clearance, and will how will the height effect my room design

,

will

the fixture block artwork or windows

.
In An Open Space:
6' 6" to 7' 6"

from the floor, in some cases even higher depending on the space.
Measuring Hanging Height:
To determined hanging height we measuring from the ceiling to the bottom of the glass. The way to calculate the hanging height you need is to hold a yardstick or tape measure up to the ceiling and see how far you want the light fixture to hang down.
Material:
Main Glass Color: Mission Studio offer two colors: Caramel Cream and Whispering White. The Caramel Cream, when illuminated, offers a warm amber glow. However, the Whispering White offers approximately 20% more light. The Whispering White glass has some small streaks of caramel within and is not pure white. If this is a light source you will use daily, the brighter Whispering White glass may be a better choice.
Wood Color and Options:
The wood is hand selected ,cut, sanded, and joined by hand. Our Craftsman use Oak wood finished with your choice of stain; Dark Cherry, Mission Brown, Golden Oak. Cherry Wood is also available with a natural clear finish.

Custom colors are available for an additional cost.