Large Three Pendant Light #524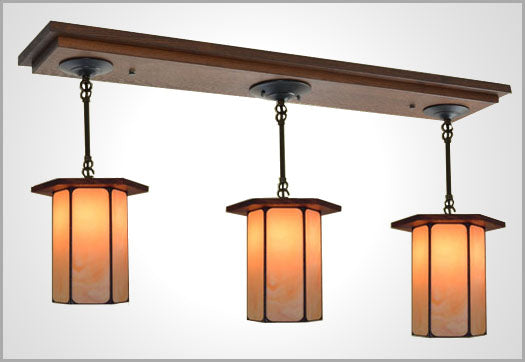 Price:
FREE SHIPPING
Due to HIGH Demand Please allow 5-6 weeks to ship.
A classic light fixture that perfectly complements large kitchen Islands and the large dining room tables. This beautiful fixture uses three of our Arts and Crafts Chandelier and casts a warm glow in the room. The elegant handmade and hand finished pendant light is further accentuated by the use of stained glass in two colors of your choice. You can select from many wood colors and hanging heights to fit your space.
Specifications:
Hanging Height Shown: 25"
Ceiling Board:

54" x 8"
Glass Shade Size:

Maximum Width 9" Height 12.5"

Frame Size:

11" x 11"
Wattage & Bulbs:

3 Bulbs with 100 watts maximum for each bulb for a total of 450 watts.
Main Glass Color:

Caramel or Whispering White Glass(20% brighter)
Frame: Oak or Cherry -

See colors.
Calculating Hanging Height:
Over A Table: For the Large Three Pendant Light in any size we recommend 5' 11" to 6' 7" from the floor.
In An Open Space:
6' 6" to 7' 6"

from the floor, in some cases even higher depending on the application.
Measuring Hanging Height:
Hanging height is measuring from the ceiling to the bottom of the glass.