Prairie Mission Chandelier #607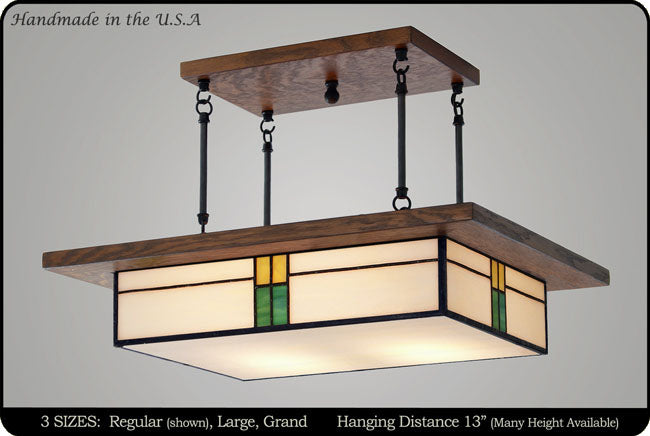 Price:
FREE SHIPPING
Due to HIGH Demand Please allow 5-6 weeks to ship.
Decorate your home with our beautiful handcrafted Prairie Mission Chandelier. The delightful designs and elegant charm of our Mission lights will give a unique look to your dining room space or living room. This beautiful lighting is available in a variety of accent and wood color options, to customize it according to your liking and home styling. So, add style and chic to your abode, by installing our handmade in the U.S.A light fixture, to give your home a classic and timeless design.
Specifications:
Instructions: View
See the fixture in a home: Customer Photos
Frame Size: Regular 21" x 17" - Large 25" x 21"- Grand 30" x 22"

Ceiling Board Size: Regular 12" x 8" - Large 16" x 12" - Grand 21" x 13"

Diagram of Sizes: Regular Size - Large Size

-

Grand
Weight: 17-30 pounds depending on the size and style.
Wattage & Bulbs: 4 Bulbs 75 watts maximum each. Works with: LED, fluorescent or incandescent bulbs.
Rating: UL Listed for Dry Locations
Main Glass Color: Caramel or Whispering White Glass(20% brighter)
Frame: Oak or Cherry - See colors. Custom colors are available
Size Applications:
Regular Size: Rooms 11' x 11' or smaller. Average Dining Rooms, Kitchens and Bedrooms.
Large Size:

Rooms 12' x 12' to 15' x 15' Large Kitchen, Large Dining Room and Family Rooms.
Grand Size: Rooms 15' x 15' and Up, Over Large Dining Room Table, Large Islands and Family Rooms.
Note:
The room size applications above represents about 80% of the applications, customers will use a regular size in a large room and a grand size in an average dining room depending on the decor, ceiling height, and many other factors.
Calculating Hanging Height:
Over A Table For The Mission Chandelier in any size, we recommend 5' 11" to 6' 7" from the floor.
In An Open Space:
6' 6" to 7' 6"

from the floor.
Measuring Hanging Height:
Hanging height is determined by measuring from the ceiling to the bottom of the glass.
More Photos: