Large Craftsman Pendant Light #509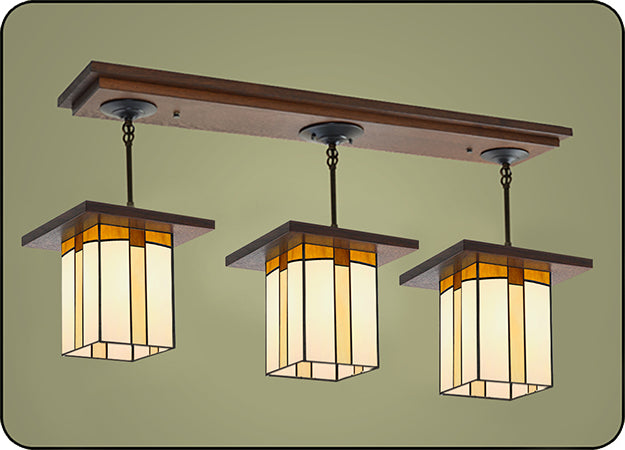 Price:
FREE SHIPPING
Due to HIGH Demand Please allow 5-6 weeks to ship.
Specifications:
Instructions:

Overview
Instructions: Lantern Attachment

Hanging Height Shown:

 

20"

 

See Heights
Ceiling Board:

 

41" x 7.5" Custom sizes are available

Glass Shade Size:

 

6" x 6" x 9".
Frame Size:

10.5

" x 10.5"
Dimensions:

 

Click for Photo
Wattage & Bulbs:

 

3 Bulbs with 100 watts maximum for each bulb for a total of 300 watts.
Bulb Type:

 

LED, fluorescent or incandescent.
Rating: UL Listed for Dry Locations
Applications:
Most customers use this piece as a craftsman dining room lighting fixture, or for Kitchen Lighting, over an Island is another common use.
Calculating Hanging Height:
Over A Table:
For the craftsman style pendant light fixture in any size we recommend 5' 11" to 6' 7" from the floor. 

 

The factors to consider are, will I hit my head when I bend over the table,

 

will this fixture block the view of the window, wall decorations or someone standing across the table. 

 



In An Open Space:
6' 6" to 7' 6"

 

from the floor, in some cases even higher depending on the application.
Measuring Hanging Height:
Hanging height is determined by measuring from the ceiling to the bottom of the glass. One of the best ways to measure is to hold a yardstick or tape measure up to the ceiling and see how far you want the fixture to hang down.
Material:
Main Glass Color:
Two colors are available: Caramel Cream and Whispering White. The Caramel Cream glass, when illuminated, offers a beautiful amber glow. However, the Whispering White glass is approximately 20% brighter.  The Whispering White glass has some small streaks of amber within the glass and is not pure white.  If this is a fixture you will use daily, the brighter and more white light of the Whispering White is a more popular option.
Wood Color and Options:
The wood is hand picked ,cut, sanded, and joined by hand.

Our artisans use Oak wood stained with your choice of Dark Cherry, Mission Brown and Golden Oak. Custom colors are available for an additional cost. Clear oiled Cherry wood is also an option.



More Photos: