Craftsman Chandelier #452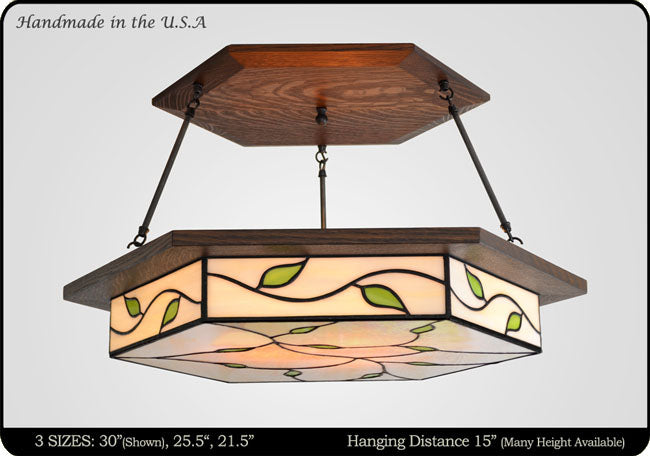 Price:
FREE SHIPPING
Due to HIGH Demand Please allow 5-6 weeks to ship.
This beautiful Craftsman Chandelier Ceiling Light fixture is the perfect example of handmade light structures. This semi flush mount boasts bold lines that are softened by the use of stained glass that is hand rolled in the U.S.A. The wood is hand selected and fitted on to the glass structures. The finish is completely organic and applied by hand. The light is perfect for the living room, foyer or the hall where it can become the centre of attention, creating any space a dramatic flair.
Specifications:
Instructions: View
See the fixture in a home: Customer Photos
Frame Maximum Width: Regular 21.5" x 18.5" - Large 25" x 21.5"
Ceiling Board Maximum Width: Regular 11 1/2" - Large 15 1/5"

Diagram of Sizes: Regular Size - Large Size
Weight: 17-28 pounds depending on the size and style.
Wattage & Bulbs: 3 Bulbs 100 watts maximum each. Works with: LED, fluorescent or incandescent bulbs.
Rating: UL Listed for Dry Locations
Main Glass Color: Caramel or Whispering White Glass(20% brighter)
Frame: Oak or Cherry - See colors. Custom colors are available
Size Applications:
Regular Size: Rooms 11' x 11' or smaller. Craftsman Style Kitchen Lighting, small dining rooms and bedroom
Large Size: Rooms 12' x 12' to 15' x 15' Average to large Kitchens, Dining Rooms and Family Rooms.
Note: The room size applications above represents about 80% of the applications, customers will use a regular size in a large room and a grand size in an average dining room depending on the decor, ceiling height, and many other factors.
Calculating Hanging Height:
Over A Table: For The Craftsman Style Chandelier in any size we recommend 5' 11" to 6' 7" from the floor. The factors to consider are, will I hit my head when I bend over the table, will this fixture block the view of the window, wall decorations or someone standing across the table.
In An Open Space:
6' 6" to 7' 6" from the floor, in some cases even higher depending on the application.
Measuring Hanging Height:
Hanging height is determined by measuring from the ceiling to the bottom of the glass. The easiest way to measure is to hold a yardstick or tape measure up to the ceiling and see how far you want the fixture to hang down.
More Photos: