Arts & Crafts Chandelier Antique #351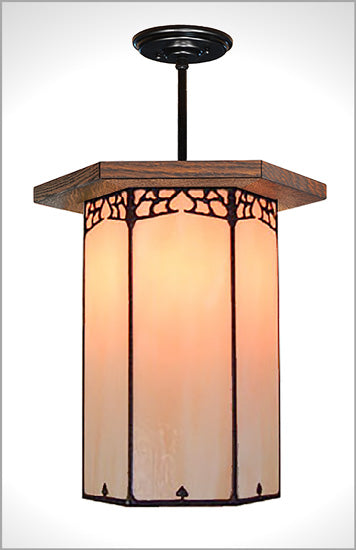 Price:
FREE SHIPPING
Due to HIGH Demand Please allow 5-6 weeks to ship.
This distinguished, handcrafted, pendant-style light is perfect for the discriminating person who values graceful elegance. Nothing looks more stylish than this Antique Style Arts and Crafts Chandelier hanging in a high ceiling room casting a warm glow on furniture, carpet, or hardwood floors. Available in amber or soft white, this hanging fixture is enhanced by the wood trim, which can be ordered stained in a choice of shades or with a natural finish. To add an even more dramatic touch, the lacy pattern below the six-panel wood platform is classic style lighting.
Specifications:
Instructions: View - Print size.
Hanging Height In Photo:

 

21".
Ceiling Plate:

 

Maximum Width 5".
Frame:

 

Maximum Width 14.5"
Glass Box:

 

Maximum Width 9" Height 12.5"
Weight:

 

17-24 pounds depending on the size and style.
Watts and Bulb:

 

One bulb with a maximum watts of 150
Rating: UL Listed for Dry Locations
Applications:
Foyers, Large Hallways, Entryways: This fixture works well with high ceiling spaces.
Large Kitchen Island:

 

Hanging two or three of these lighting fixtures for lots of light and great ambience.
Round and Square Dining Room Tables
Great Rooms & Large Rooms: Hang two, four, six or more of these fixture to light up extra large spaces
Log Cabins and Lodges: These hanging chandeliers work great with the rustic decor of mission style Lodges and Log Cabins
Calculating Hanging Height:
Over A Table: For the Arts and Crafts light in any size we recommend 5' 8" to 6' 7" from the floor.
In An Open Space:
6' 6" to 7' 8"

 

from the floor, in some cases even higher, depending on the application.
Measuring Hanging Height:
Hanging height is determined by measuring from the ceiling to the bottom of the glass. The easiest way to measure is to hold a yardstick or tape measure up to the ceiling and see how far you want the fixture to hang down.
Craftsmanship:
Main Glass Color:
The antique style Arts and Crafts pendant lighting is available in two main glass colors: Caramel Cream and Whispering White. The Caramel Cream, when illuminated, offers a beautiful amber glow. However, the Whispering White is approximately 20% brighter.  The Whispering White glass has some small streaks of amber within the glass and is not pure white.  If this is a lighting fixture you will use daily, the brighter and more white light of the Whispering White glass is a more popular option.
Wood Color and Options:
The wood is carefully hand selected ,cut, sanded, and joined by hand. Our skilled artisans use Oak stained with your choice of Dark Cherry, Mission Brown, Golden Oak. Also available in Cherry wood with a natural clear finish.

 

Custom stain colors are available for an additional cost, e-mail or call for details.
More Photos: